Toulouse
Submitted by admin on Sun, 2006-04-23 08:17.
Toulouse, Haute-Garonne, South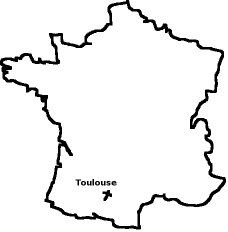 Accomodation
More than 100 people, camping.
Invitation to participate
From the 19th to the 27th of August, the people global's action (PGA) will take place in Toulouse. This year, the PGA conference will happen in five different places from the 19th to the 28th of August. From the 30th to the 3rd of September, a centralised event will be in Dijon. A caravan will leave from Toulouse the 28th of August to join Dijon passing trough the other four places of the conference in order to arrive the 29th in Dijon.
We, the collective organising the event in Toulouse, have decided to do the conference about three thematics : access to land, urbanism and housing autonomy. During nine days, we will exchange about the urbanism problem : social housing policy, urbanism and social control, practical solutions to access to land, eco/autoconstruction. Two texts are available at these url : urbanism and access to land . The texts are only in French but you have all the description of the event in english and spanish. Moreover, we did a six pages presentation which is available at this link : presentation
During this event, we will propose autoconstruction workshops. We have already prepared one house in order to install it fastly. With this workshop, we want to create collective life space : cook, video, debate, reading, info point. If you want to participate, you can contact us by email autoctoulouse@lists.nokods.org. In order to prepare a programm of debates and video projections, it is advised to tell us by mail if you want to partcipate to a debate about the three thematics or bring a video film.
The place is located in Toulouse, it is possible to camp with a tent, you need to be autonomous. This space will be occupied to give a political message to the institutions about their housing policy and our wish to break down the speculation. A meeting is given at 9 am in front of « Les Jardins Raymoond IV » allées Charles de Fitte. Then, we will converge together to the place.
Solidarity,
The collective in charge of the pga conference in Toulouse