Materials
Submitted by admin on Sat, 2006-05-20 19:28.
During the Conference
Propaganda
During the Conference
Practical Guide
Political Reader
Global PGA
Plaisantation
Plaisantation is an information booklet on PGA, Sans-Titre and STAMP.
Facilitation
Program
Legal Advice
By the Way !
Conference Newspaper
Propaganda
Plaquette
Plaquette is a synthetic presentation & invitation to the fourth european PGA encounters.
Low Quality: for online reading, light file not suitable for printing.
High Quality: for printing, heavy file not suitable for dissemination.
First Version
Second Version
Poster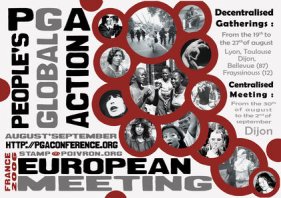 Paving Stone
English translation of LePavé (paving-stone), summing up the organisation process of the conference, updated as work goes on, as meetings get done, as reports are merged into it and so on. It's available on the STAMP wiki.
Websites